7/23 BLEUBIRD w/ Thesis Sahib, Jesse Dangerously, Sibitt + Math Rosen!
BLEUBIRD w/ Thesis Sahib, Jesse Dangerously, Sibitt + Math Rosen!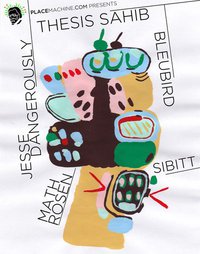 時間
2011年7月23日 · 18:00 - 23:30
場所
In an RV on Victoria Island (Ottawa, ON)
詳細
BLEUBIRD/THESIS SAHIB/JESSE DANGEROUSLY/SIBITT/MATH ROSEN
+++++++++
Florida/Montreal/Europe/it​inerant rapper Bleubird is cris-crossing the continent in his retrofitted recreational vehicle, putting on wild, unadvisable shows right where you might least expect it.
http://bleubird.org/catego​ry/freeebird/
With Thesis Sahib, he forms Les Swashbuckling Napoleons, and Thesis Sahib will be there. They have a new album called "FUCK!" and it will be there, too.
http://ugsmag.com/2010/11/​les-swashbuckling-napoleon​s-bleubird-thesis-sahib-ed​ison-fuck/
With Sibitt and Scott Da Ros, Bleubird forms Triune Gods. Scott will not be there, but Sibitt will!
http://www.triunegods.com/
Thesis Sahib will also be there representing his very own self - an avant garde, post-post-punk and new wave (old wave?) art rap party of one, plus a shockingly important graf artist who has made Canada's face uglier for its own good. Also, who you calling ugly. His new album/art book is called "Before The End."
http://jameskirkpatrick.or​g/
Thesis and Sibitt do not have a group together.
Jesse Dangerously will be there though!! And he and Thesis are in Backburner together, and Backburner is 20-person-deep hip-hop crew that is about to release its debut album in September, and the two of them help to make it awesome!
Jesse lives in Ottawa but is really from Halifax, Nova Scotia, where he is revered (and largely forgotten) as a Genuine Independent Rap Legend, or GIRL. His new album is called "Humble & Brilliant" and it is also a 70-page chapbook with lyrics and a foreword by Buck 65 and illustrations by award-winning comics artists Bryan Lee O'Malley (Scott Pilgrim) and Hope Larson (Chiggers).
http://www.dangerously.ca/
Also, MATH ROSEN will make some beats happen from 7:00 to 8:00 or so. He's not in a group with anyone, but Jesse keeps saying he will rap on a MATH beat. So maybe one day.
http://www.mathrosen.com/
All of these people packed into one mobile camper... with YOU, and speakers, and raps.
One night only, the carnival is in town.
Bring your friends to us.